Flours & Grains
We are learning more every day about the importance of healthy carbohydrates. We offer a range of traditional whole grains and sprouted flours, including gluten-free varieties.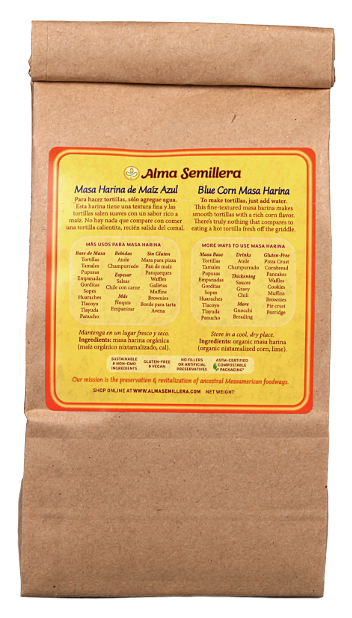 To make corn tortillas, it's as simple as adding water.
This fine-textured masa harina makes smooth tortillas with a rich corn flavor. There's truly nothing that compares to eating a hot tortilla fresh off the griddle. Instructions are included with every bag, and you're welcome to Alma Semillera at any time if you have questions or need to troubleshoot.
Ingredients: organic non-GMO masa harina (organic nixtamalized corn, lime).
100% Sprouted Brown rice. Perfect for when you don't have time to soak your rice. Digestible and delicious.
100% organic sprouted rolled oats Great for oatmeal, cookies, granola, and energy bars. No need to soak!